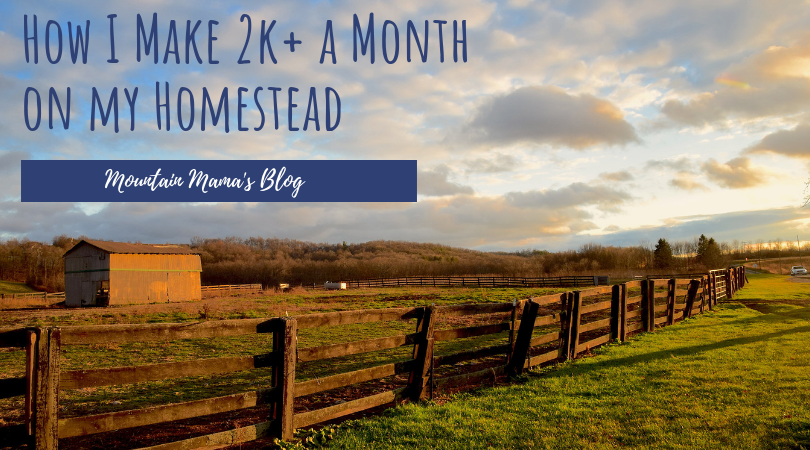 So you've got your homestead. HOORAAAY!!! But you are still working a full time job to afford your dream property. How do you make money on your homestead to afford to quit your job? Because lets be completely real here, homesteading is a full time job and if you are also working, well that's TWO full time jobs and nobody has time for that.
So I am going to tell you how I make over 2k a month and how you can make money on your homestead too! And I am talking real money here. Now I'm not saying you can't make enough money having 20 bazillion hobby/projects to do, but it takes up a heck of a lot more time and those things are better for earning a little spending cash not paying all your bills.
How To Make Money on Your Homestead
1) Board Animals:
I make just over $1,000 a month boarding horses on my property. I have 50 acres and a barn and offer both pasture and stall board. Don't have enough space for horses, or don't want to care for them? Consider letting out part of your pasture to someone to graze their animals in the summer. Maybe put in a few pre-made dog kennels and offer dog boarding or cat. There are plenty of options! Just make sure you check all your local laws and see what others are charging for the same service.
2) Rent
Do you have a second house on your property or a spare room? Why not rent it out? I have 2 rooms in the upstairs of my house that I am in the midst of finishing off. One is currently rented out at $400/month and the other will be fully furnished and rented out at $500/month. So I will be bringing in $900 from renting rooms. This can be a really good option if you have the appropriate space to do so. You could even think about hiring a property management company to rent your house out for you. They deal with all of the hassles and inconveniences, whilst you can make some extra income! However, if you don't have rooms or don't want to live with someone else, you need to be creative! Do you have extra outbuildings? A shop? Why not rent those out as a workspace or studio for someone else? You could also put in a cabin or yurt to use as a vacation rental. Buying a log cabin could be a good investment for your money, check out a Cabin Project Diary to see how they can be made and what benefit they can be to you. To considerably improve your rental business make sure you look into the rental laws, as well as look at a template or drafting your own late rent notice in the case of tenants defaulting on their rental agreements.
3) Essential Oils
I sell essential oils as another part of my income, admittedly I have just started really pushing the business aspect of it but I plan on it completely covering all of my costs within 2 years so that I don't have to rent out rooms or take care of other peoples animals if I don't want to. Why essential oils? Well I love to be as natural as possible and I freaking love the company I work with, they are amazing and supportive. You can find out more about essential oils here, and see a video of me talking about why I love them so much. If you are interested in building a home based business with them I would love for you to be part of my team! And since I talked about money here is the income disclosure.
4) Your Skills & Equipment
Did you invest in a nice tractor, snow blower, hay elevator, chicken plucker, etc? Why not rent the equipment out or get paid to use it? Offer hay baling/stacking services in the summer and fall. Rent out a building for people to process their animals in (check local laws). Plow peoples gardens, move piles of poo, grade land. The possibilities are endless, just look at what you have and what service you can offer. You could easily make $100 a day or more doing any of these.
5) Hobby/Small Income
Now comes all the small little things can do like soaps, vegetables, hatching eggs, and more. There have been plenty of posts on this so I'll just link a few to give you some ideas instead of writing a list that has already been done numerous times.
https://saltinmycoffee.com/make-money-on-a-small-homestead/
https://morningchores.com/make-money-homesteading/