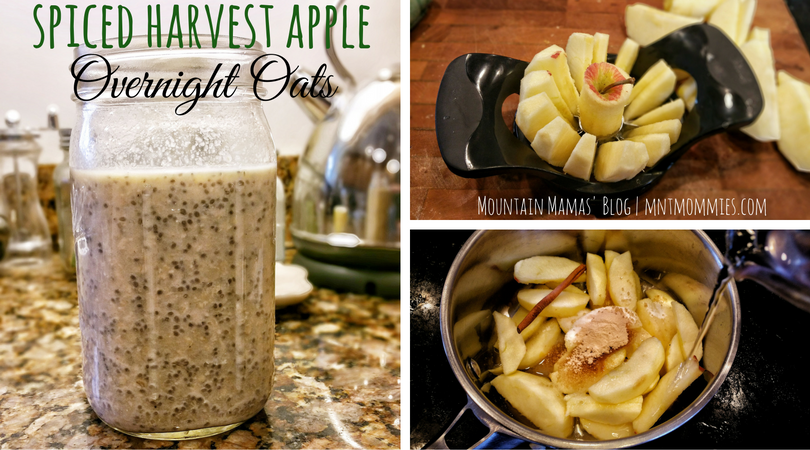 One of the best things about living in the mountains in the fall….apple harvest season! It starts in September and ends in October. There is always a huge harvest festival held for 2 weekends in the beginning of October, it is always so much fun to go to (don't worry I'll share pictures when I go this year)! So in honor of fall and apple season I have decided to do a series of apple related blog posts! Today I'll share a recipe for Spiced Harvest Apple Overnight Oats!
Who doesn't love oatmeal? I mean c'mon, it is comfort breakfast food! Overnight oats were something I discovered and fell in love with 4 years ago when I was pregnant with twins. Throw some oats and milk in a mason jar and stick it in the fridge overnight and you can eat it the next day. I liked it so much because my feet and back hurt all the time (twins y'all) and it was so quick and easy. Once the kiddos were finally out in the big wide world I really started experimenting and adding flavor to my overnight oats.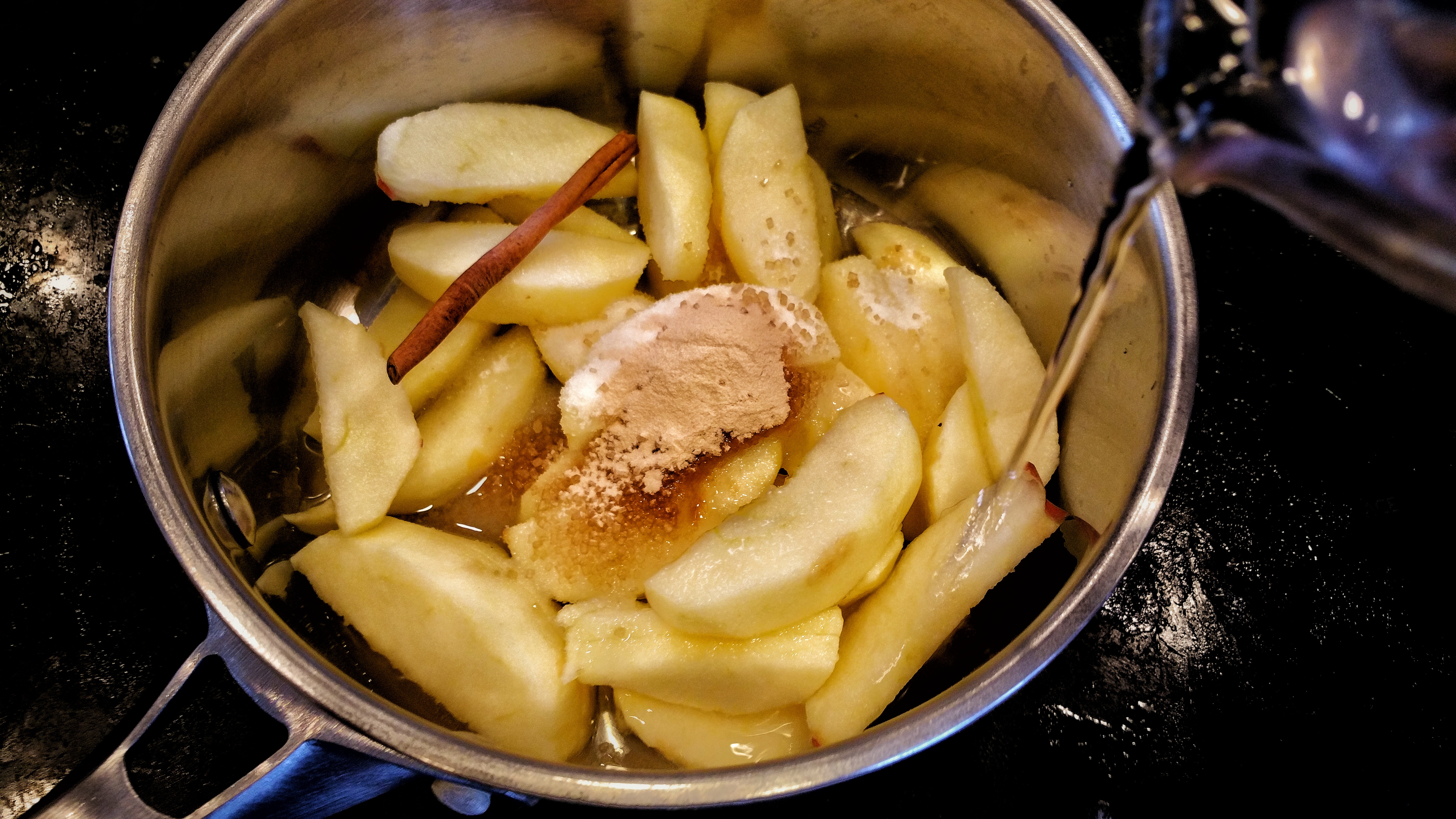 These Spiced Harvest Apple Overnight Oats take a bit more time to prepare but are so worth the extra effort. I cook the apples on my stove with a little bit of brown sugar, cinnamon, cloves, butter, and water. Then puree it all up and add it to my basic overnight oats recipe. I also add in some chia seeds for an extra protein and healthy fat punch.
I love my handy dandy apple slicer for chopping just 1 apple, but if you are going to be prepping a bunch of apples I highly recommend getting an apple corer and peeler.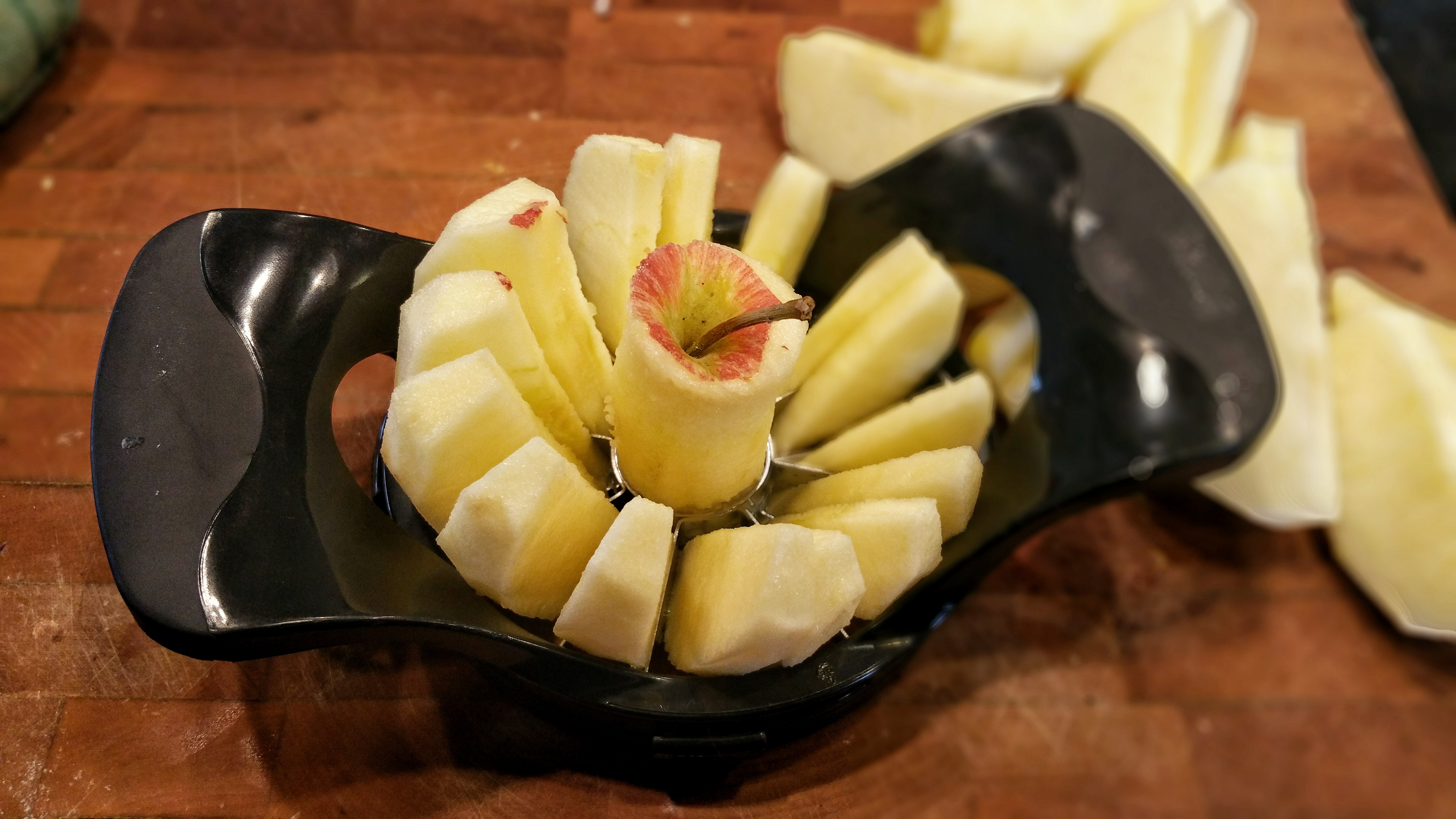 Spiced Harvest Apple Overnight Oats
2016-09-27 06:32:16

For Apple Puree
2 Apples peeled* and chopped
1/4 Cup Water
2 Tablespoons brown sugar (optional)**
1 Tablespoon butter (optional)**
1 Cinnamon stick
1/4 Teaspoon Cloves
1/4 Teaspoon Alspice
1 Pinch Nutmeg
1 Teaspoon Vanilla
For The Overnight Oats
1/2 Cup Apple Puree
1/2 Cup Rolled Oats
1 Tablespoon Chia Seeds
1/2 Cup Milk of Choice
For The Apple Puree
Combine all ingredients in pot.
Turn to medium low put on lid and cook 45-60 minutes until apples are soft.
Stir every 15 minutes.
Blend apples to the consistency you like. I like them completely smooth, but you can totally leave chunks if you want.
Freeze (or can) what you do not use right away.
For The Overnight Oats
Add all the ingredients to a container with a lid (like a mason jar) fasten the lid and shake.
Refrigerate overnight and enjoy the next day!
Notes
*If I have organic apples I usually do not peel them because apple peels are packed with all kinds of nutrition.
**Butter and brown sugar are optional but they add a ton a great flavor!
Mountain Mamas' Blog http://2momsnaturalskincare.com/