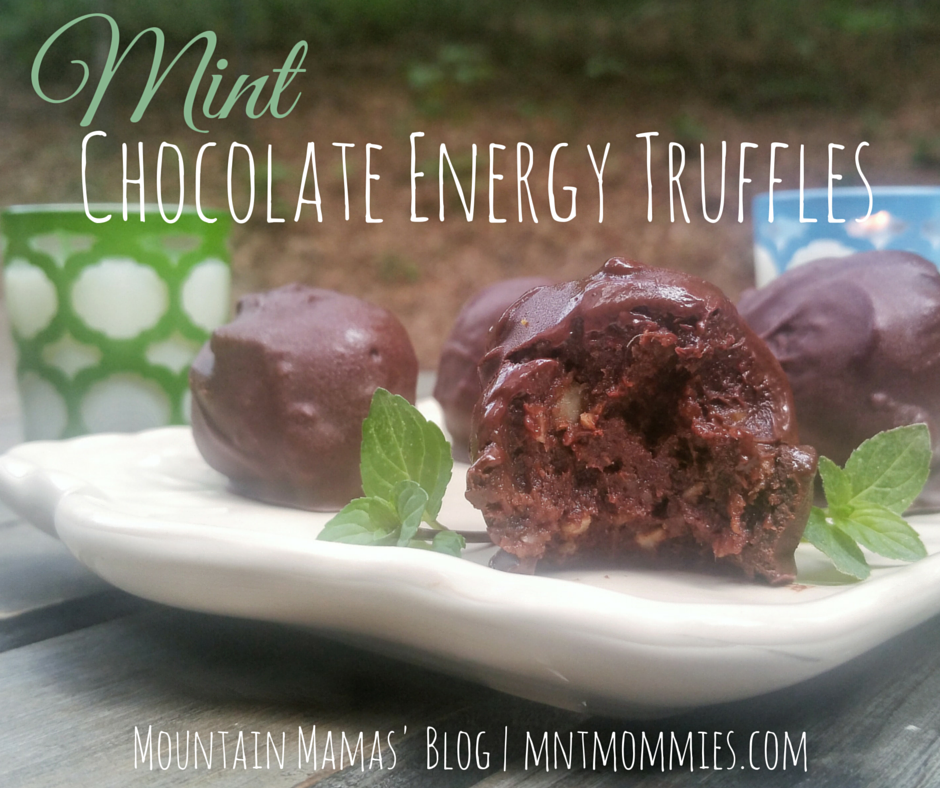 So I see all these protein ball recipes floating around the internet and I look at them and think 'man I want to try those' and then I think 'I bet they taste completely gritty and disgusting'. Am I the only one to think this way? Because a bunch of nuts and dried fruit smashed together really does not sound that appetizing to me. I was determined to at least TRY them though. So I scoured the interwebs looking at all of the energy ball recipes and forming my own that looked the smoothest and choclatiest.
Then I whipped up a batch in the food processor and rolled and dipped them in organic dark chocolate (because a little extra chocolate never hurt anyone). And I, being the loving kind wife I am, let my husband try the first one. Y'know just in case it was completely disgusting. He took a bite and then a huge grin lit up his face and he says 'it tastes just like one of those mint girl scout cookies!' This is high praise coming from candy and sweet addicted husband.
So I took one small bite.
HOLY CRAP IT WAS DELICIOUS!
I mean seriously delicious! It tasted just like one of those truffles you would buy from some kind of fancy pants candy shop. I promptly devoured the rest of mine and started on another.
Now I keep a batch of these in the freezer all the time. If I am up at 3 AM with the twins or hit the afternoon slump I eat 1 or 2 of these and it perks me right back up. I also pack up a few of these whenever I go to a birth and include a few without peppermint for the mom to be if she wants one.
This recipe is packed full of nuts to provide long lasting energy and protein. Dates provide a quick burst of energy to pick you up immediately. Peppermint Vitality Essential Oil stimulates the senses and helps improve focus and clarity.
I get most of the ingredients for this recipe delivered right to my door from Thrive Market. They are like an online Costco of natural and organic products.
In this recipe I use peppermint essential oil. For essential oils I choose to only use Young Living because of their amazing Seed to Seal promise I know that what I am getting is pure essential oil that has not been diluted or had chemicals added to it like many store bought essential oils. I want my family to be happy and healthy and using Young Living is one way that I do that. If you are interested in essential oils you can find out more about Young Living and learn how to save 24% on all your purchases here.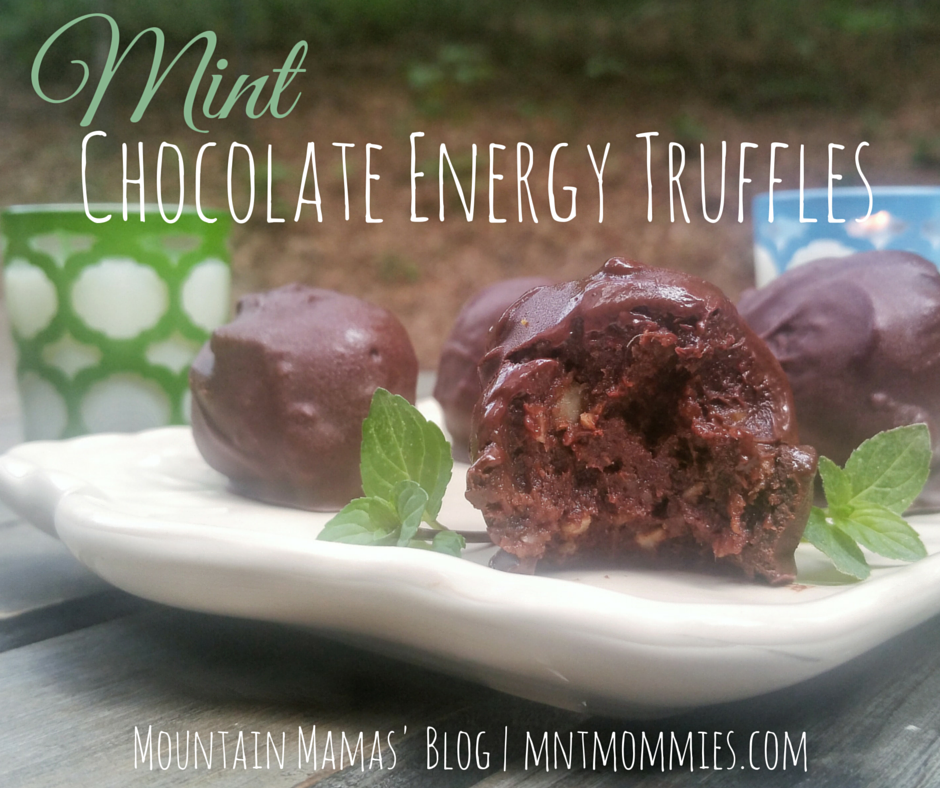 Mint Chocolate Energy Truffles
2016-07-19 18:31:21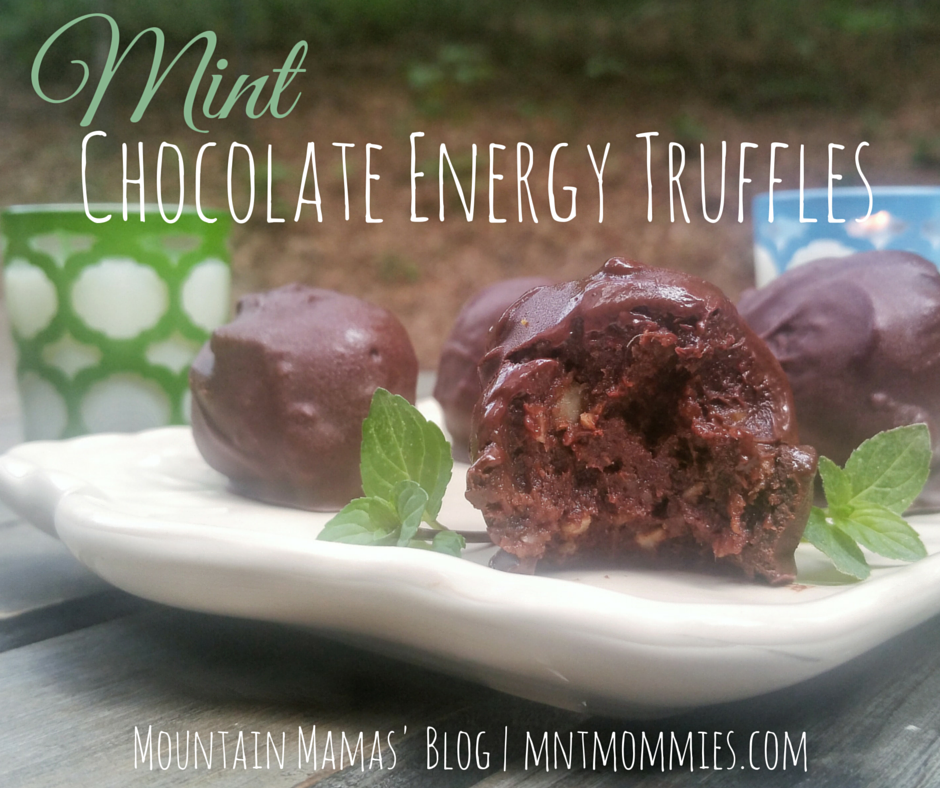 Ingredients
1 1/3 Cups Dates
2 Cups Warm Water
1/3 Cup Pecans
1/3 Cup Almonds
2 Tbsp Unsweetened Cocoa Powder
1 Tbsp Coconut Oil
1 Tsp Vanilla Extract
2 Drops Peppermint Vitality Essential Oil*
1 Cup Dark Chocolate Chips
Instructions
Soak the dates in the 2 cups of warm water for 10-15 minutes and then drain.
Add the dates and the rest of the ingredients except for the dark chocolate chips into the food processor.
Puree until smooth.
Roll the 'batter' into balls. I use about 1 tbsp. of 'batter' per ball.
Place onto a tray covered with wax paper.
Over a double boiler melt the dark chocolate chips.
Using 2 forks or a candy dipping tool, coat the balls with the melted chocolate and place them back on the wax paper.
Put the tray into the freezer for 15 minutes for the chocolate to harden.
You can store these for 3 weeks in the fridge and up to 3 months in the freezer.
Notes
*If you do not have peppermint essential oil you substitute 1/4 tsp. of peppermint extract, it just won't have quite the same energy boost that peppermint oil does.
Mountain Mamas' Blog http://2momsnaturalskincare.com/