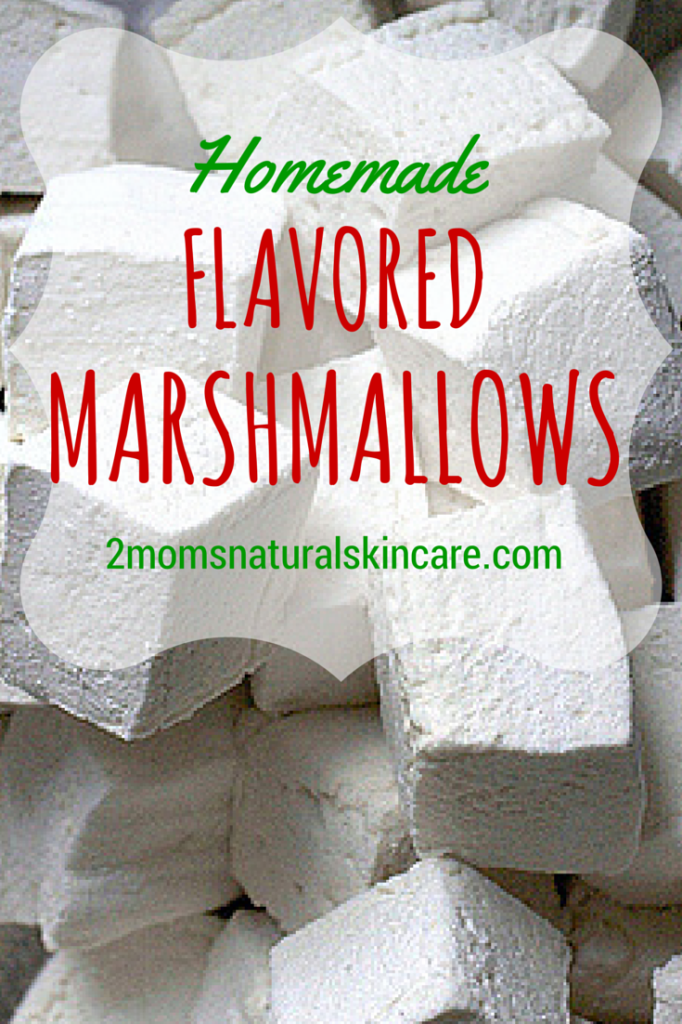 Mmm…fall is here! Leaves are turning into a riotous mass of red, orange, and yellow here in the North Georgia mountains. When I walk outside the air has a nice crisp bite. The wind playfully moves through the trees. I take morning and evening walks through the woods in my backyard. It is so much fun to watch all the animals, especially the squirrels, preparing for winter. The twins enjoy it too! In the evening I like to curl up on the couch with a blanket and a nice cup of Hot Cocoa, and you know what goes great with Hot Cocoa, homemade flavored marshmallows!
This is a traditional marshmallow recipe with actual marshmallow plant in it! It is honestly a million times better than store bought marshmallows, I can't believe I ever ate those! These marshmallows are flavored using essential oils, there are so many different ones
These marshmallows are also a great, yummy way to help get your daily dose of gelatin. Gelatin is great for your skin, hair, nails, bones, and joints!
These marshmallows make a great gift during the holidays. After making them you could give them with a batch of Hot Chocolate
Mix or even dip them in chocolate and decorate them like this. —->
Please note not all essential oils can be ingested. I only use Young Living Essential oils to flavor my food, you can find out more about their oils and how to save 24% on your oily purchases here.
I get my marshmallow root from Mountain Rose Herbs.
I use grass fed gelatin from here.
As an added bonus to all this sweet ooey-gooey goodness, marshmallow root can help soothe sore throats!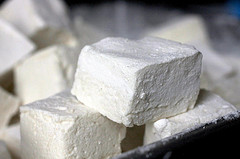 Flavored Marshmallow Recipe
2014-10-20 05:55:36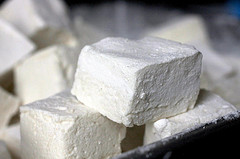 Ingredients
4 Tablespoons Gelatin
1 Cup Water
1 Tablespoon Marshmallow Root
1 Cup Honey
2 Teaspoons Vanilla
3-5 Drops Essential Oil of Choice
Instructions
Boil 1 cup water and let the marshmallow root steep in it for about 15 minutes. Then strain.
Pour half the water into a miking bow or stand mixer along with the gelatin and whisk together.
Pour the remaining water into a sauce pan with the honey and heat on medium until it reaches 230° on a candy thermometer.
Turn on stand mixer or hand mixer and slowly, very slowly, pour in the honey and water mixture continuously mixing on medium.
Once all the honey mix is incorporated turn your mixer on high and beat for 5-10 minutes until it has turned white and forms soft peaks. Right before soft peaks are formed go ahead and add in your vanilla and essential oil.
Pour mix into a greased (I use coconut oil) 9x13 pan. Let set overnight or for 8 hours.
Turn marshmallow out onto a cutting board sprinkled with powdered sugar or corn starch.
Use a lightly greased knife to cut marshmallow into squares. Or us a greased cookie cutter for fun seasonal shapes.
To keep marshmallows from being sticky lightly coat them in corn starch or powdered sugar.
Mountain Mamas' Blog http://2momsnaturalskincare.com/