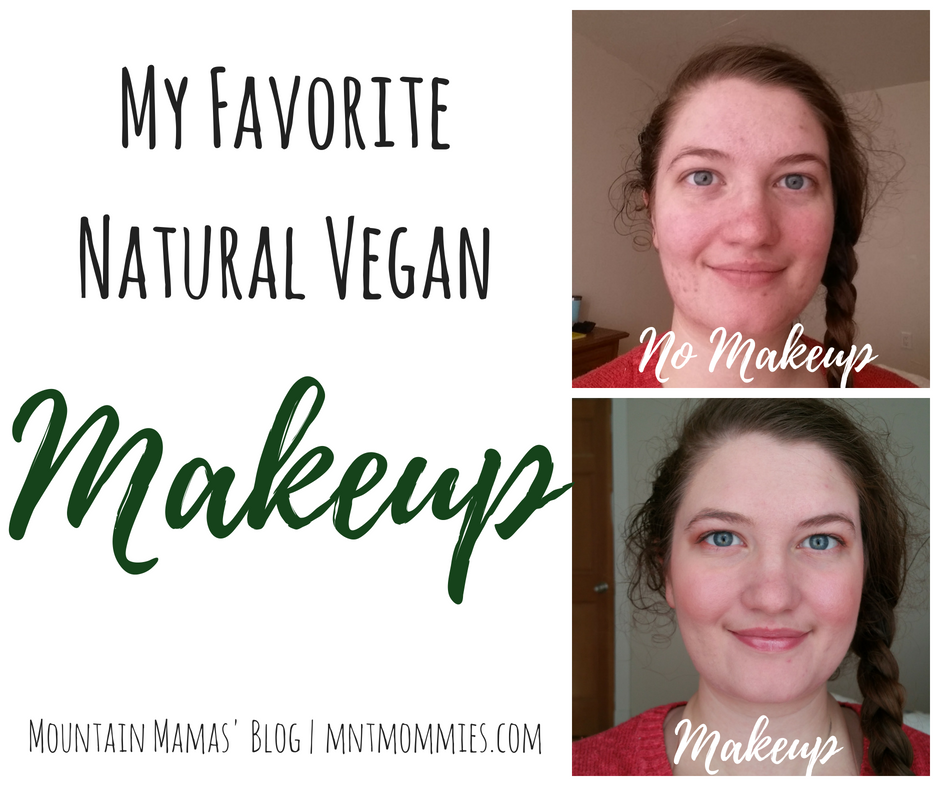 I wanna be honest with you guys, I LOOOOOOVE makeup and it has secretly been my last natural holdout. You see, I have acne and while it has gotten so much better by switching to natural products, I still break out every once in a while and my skin is a bit lumpy and bumpy due to older acne scars.  Having a derma roller really helps with these scars, but nevertheless my skin is far from perfect. So I would put makeup on to cover it up and the makeup would make me break out more, so I'd put on more makeup. It was a never-ending cycle.
I usually use liquid foundations so I tried other 'natural liquid makeups' but the ingredient lists were still full of things I couldn't pronounce, and the product was just sooooooo heavy. I could hear my pores screaming in rebellion. Many of them actually made me break out worse than 'generic' makeups.
I tried a certain name brand mineral powder (who shall not be named) and whooo-boy, lemme tell you. That was not a good idea, apparently my skin does not like bismuth. My face was on FIRE and so so so so so itchy. And then being in Georgia in the summer I'd step outside and sweat and cause even more irritation. After only an hour of wearing it my face was a FREAKING tomato, I was so red and there were these terrible blistery welt things starting to form. I washed that shit as fast as I could….it was so not working for me.
And then Young Living, a company I love came out with a makeup line. Okay, so I said I was gonna be honest with you guys. I did NOT want to try it, uh-huh, no way, not for me. I don't care that I've loved all their other products, and never had any problems with them. I have been burned (literally) one too many times by 'natural' makeups, I wasn't gonna risk that again. Buuuuut….everyone kept saying how amazing it was and how their skin felt amazing even after wearing makeup all day.
Peer pressure won, and I bought myself a kit. It arrived and sat on my night stand for a week. I'd look at it every morning and think "today is gonna be the day I wear you". But I was still just so leery of it. I finally broke down and put it on, cringing practically the entire time, just waiting for my face to start tingling…but it didn't.
So I emerged from my room, looking fly as hell with my new makeup, and made breakfast, just waiting for the adverse reaction to start, nothing. I went outside to start farm chores and came back in in the evening. My human who had just gotten home from his job looked at me and said "Hey, you put makeup on today". I had completely forgotten that I had put it on. I had no reactions to it!
OHMYGOSH you guys, I can't even begin to tell you how excited I was that a natural makeup not only looked amazing but didn't make my skin freak out. It was true love after that!
Now Let's Talk about the Savvy Minerals Makeup!
The coverage is buildable, so on days when my skin is looking good I can wear it light and when my skin is bad I can make it full coverage. And it is so light, waaaay lighter than any full coverage makeup I have had before.
So why is it better than other mineral makeups?

No bismuth. This always makes me itch like crazy and turns me into a big 'ole giant Kayla lobster.

No talc, which has been linked to ovarian cancer.

No parabens. 

No heavy metals.

Cruelty free & vegan!!
And it comes in a range of skin tones!
Sounds pretty awesome right?
I want to show you guys how awesome it really is. You all get to see a picture of me without makeup on. Something I really don't like to do but I want to show you just how well this makeup covers. I have 2 sets of pictures one a before and after and one where I only have half of my face done so you can see it isn't just the light change.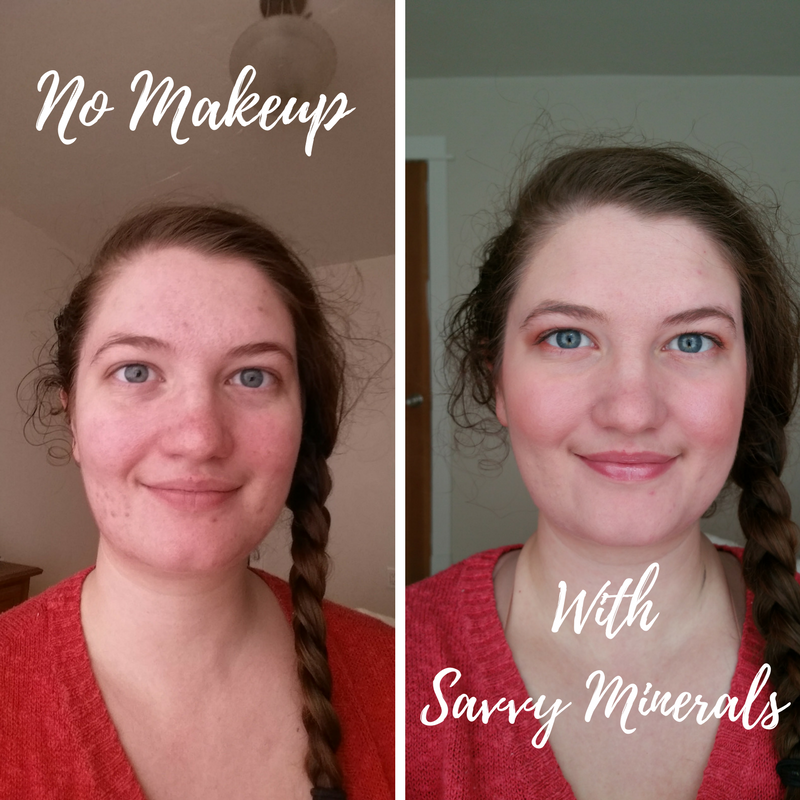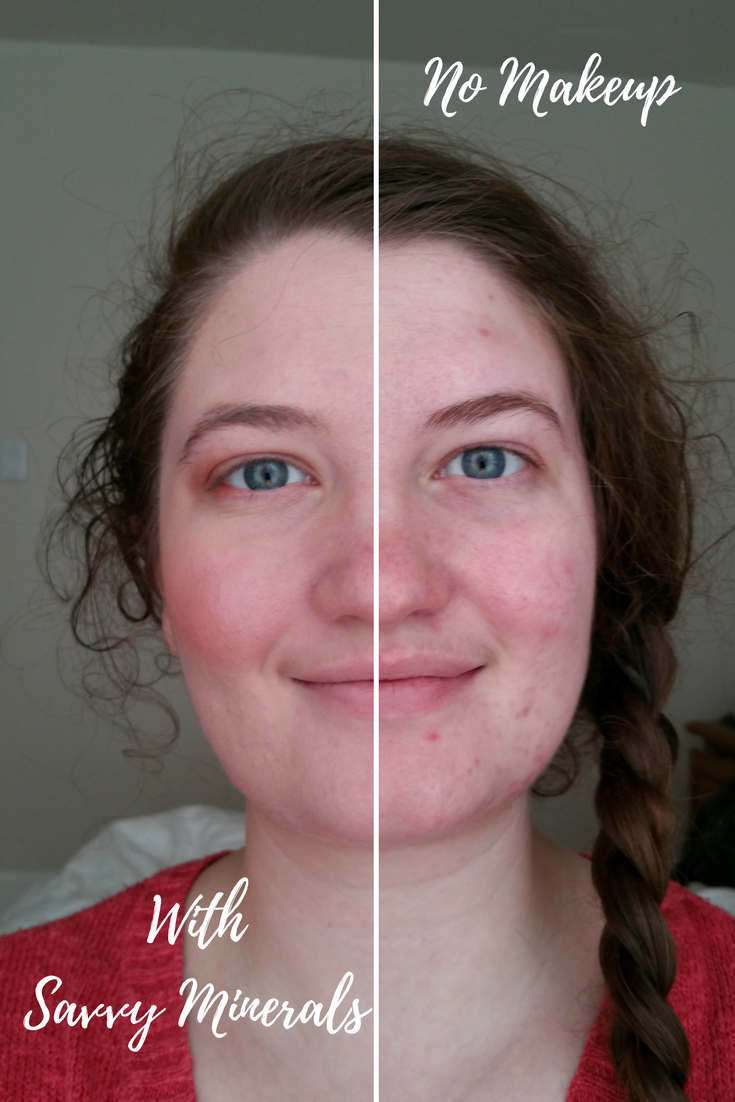 ***Please excuse the crazy eyebrows, no place to get 'em waxed in the middle of nowhere***
Now I know you're wondering just how in the heck do I get this awesome stuff???
You can buy the products individually through Young Living retail or you can become a Young Living member, and buy a starter kit and save some $$$.
Whats in The Savvy Minerals Kit
| | |
| --- | --- |
| ? | 1 Misting Spray (this helps you to get a more buildable foundation) |
| | |
| --- | --- |
| ? | 1 Lavender (this is great for DIY beauty!) |
All for $150! I dunno about you, but that is waaaaay less than what I used to spend at Ulta, and it is makeup that is actually healthy for me.
Choose Your Foundation Color
The start kit comes in the 4 most popular shades. Here is how to choose which one is right for you.
All the colors are based on ideal matches for your skin tone! Isn't that cool? So you gotta know how to match your foundation!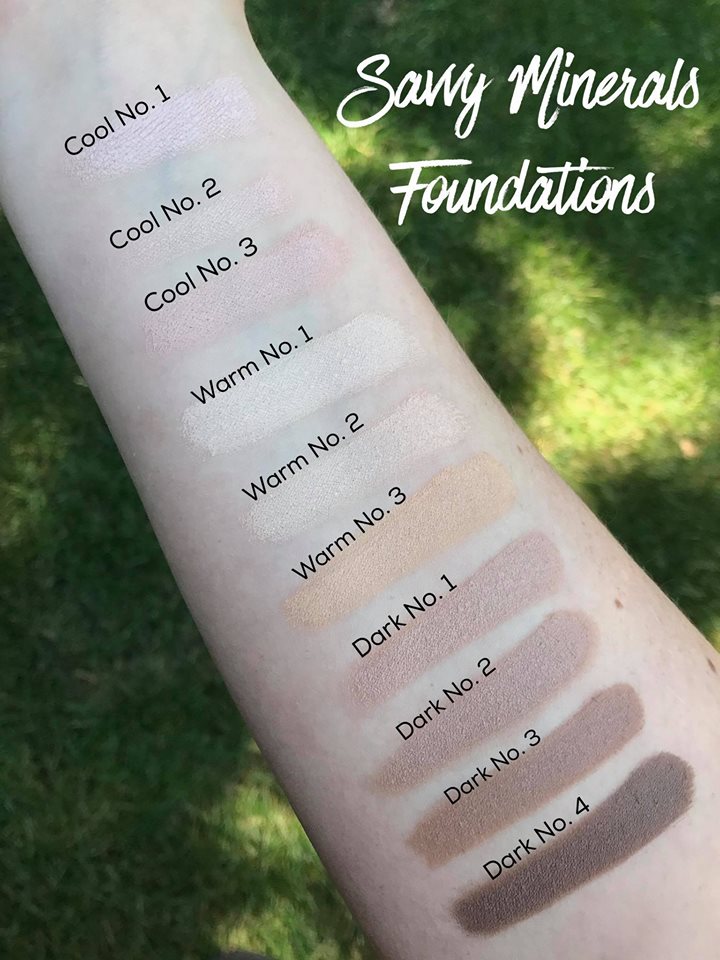 Find Your Shade
Each tone of Savvy Mineral Foundation-Warm, Cool, and Dark-comes in various shades, with No. 1 as the lightest shade. As the number goes up, the shade gets darker.  For your truest tone, look at the skin on your lower cheek, near your jawline.
Find Your Undertone
The first step to flawless foundation is knowing your undertone. Our Warm colors look best on yellow, peach, and gold undertones; our Cool colors look great on pink or red undertones; and our Dark colors have neutral undertones.
Not sure which undertone you have? Look at the underside of your forearm to find out. If the veins on your arm have a green tinge, you're likely warm. If they look bluish, you likely have a cool undertone.
You can also get some hints from the jewelry and clothes you wear. Which metals and colors look great on you? Which make your skin glow? If you reach for silver jewelry and white, black, blue, green, and blue-red clothes, you probably have cool undertones. Tend to favor gold jewelry and ivory, cream, brown, warm reds, and yellows? You likely have warm undertones.
Pro tip: You can mix Savvy Minerals Foundations together to create a custom foundation shade made just for you.
How to Get Your Kit
Click the Link to join my team here. 
Choose the Membership Option.
Enter your information.
Pick your Premium Starter Kit based on your Foundation Color.
Add items, join Essential Rewards or pay 
??
Bonus: When you get the kit you become part of my team and get to go to super cool exclusive classes and are invited to some members only groups! And all your future purchases are 24% off retail price!