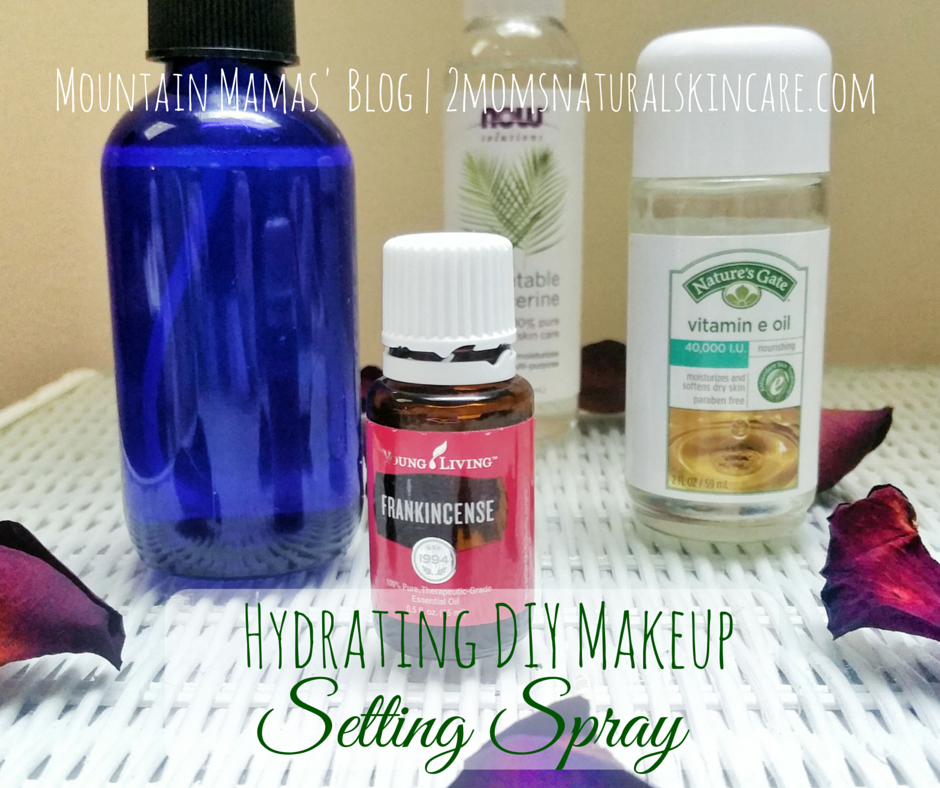 Daily temperatures have been reaching the mid 90's lately and it is only the beginning of June here in the North Georgia Mountains and today the humidity is hanging out around 80%. According to the heat index that means it feels like 109-116 degrees. In case you have never experienced this it is freaking HOT and humidity makes it about 20 times worse. That stuff sucks the life out of you. Stepping outside is pretty much like stepping into a sauna you start sweating profusely within minutes. I will be saving on sauna visits this summer though!
This really sucks if you are wearing makeup, because it pretty much melts off your face and you like like you have been crying all day. Now there are all kinds of fancy setting sprays and powders out there. I don't know about y'all but I don't want to spend $30 on a few ounces of product full of all kinds of chemicals. Uh-uh no thanks! So I decided to make something for myself, but I wanted a DIY makeup setting spray that would do more than just set my makeup, I wanted something that would hydrate my skin and help control my oil, because humidity increases oil production. And what is more hydrating and relaxing than rose water?
Now you have a choice you can just use rose water in this recipe, or if you are like me and get super oily you can use rose petal witch hazel.
Hydrating DIY Makeup Setting Spray
Using a funnel add vegetable glyverin, rose water/witch hazel, and water into a tinted glass spray bottle. The bottle needs to be tinted so the ingredients don't oxidize and lose their potency and glass because essential oils and plastic do not place nice together.
Remove funnel and add Frankincense and Vitamin E.
Put lid back on and shake to combine.
To use just spritz on your face until slightly dampened and let it dry. You can use it throughout the day if your makeup is looking a little dull or if it is just too DAMN HOT and you need a nice cool and refreshing pick me up.
I choose to only use Young Living Essential Oils for their quality and purity. Find out how to save 24% on all your oily purchases!
P.S. You can use this on your skin without makeup to help keep it nice and hydrated.
Why these ingredients?
Vegetable Glycerin– Sets makeup and provides moisture to the skin.
Rose Water– Helps maintain pH balance of skin, cools the skin, promotes healthy skin regeneration, and hydrates the skin.
Rose Petal Witch Hazel– All the benefits of rose water plus: Helps inflammation, astringent so it helps decrease oil production, and rejuvenates skin.
Frankincense Essential Oil– Promotes healthy skin regeneration, helps firm the skin, helps promote healthy oil production, and a whole bunch of other things.
Vitamin E– Helps block free radicals which helps your skin and makes you spray last longer.
I like to keep my spray in the fridge because it helps make it last longer and spraying cool mist on your face feels ah-mazing in the summer!